Can 4Life Transfer Factor be supplemented during RA (rheumatoid arthritis)?
2022-04-01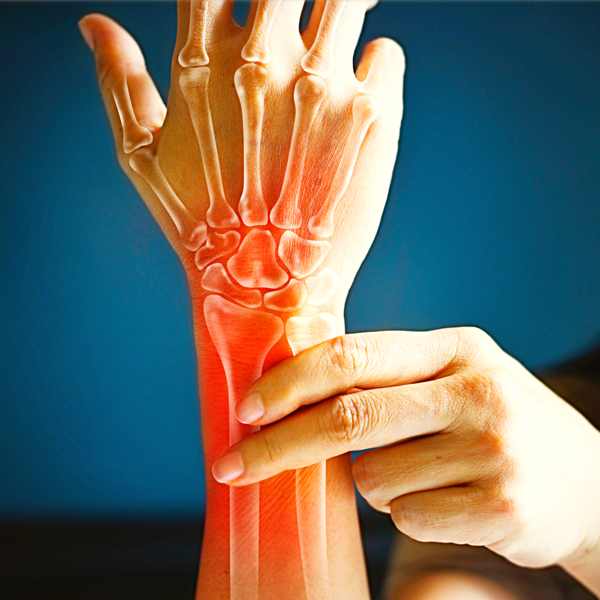 Yes, you can! Because diet is an important factor supporting the treatment of rheumatoid arthritis (RA)
RA, or rheumatoid arthritis, formerly also known as rheumatism, is a degenerative disease that progresses with age. About 1% of the Western population suffers from it. During standard pharmacological treatment, patients should pay attention to a healthy lifestyle, i.e. proper physical exercises, rest (including a high quality sleep) and, of course, an appropriate diet. Exercise, relaxation, and diet - as prescribed by a doctor - can greatly assist in the treatment of RA, contributing to improvement: relieving pain symptoms, reducing swelling and increasing joint mobility.
People with rheumatoid arthritis (RA) who care about a proper diet can supplement 4Life Transfer Factor products, because they are dietary supplements
In order to provide as many nutrients as possible, patients often use dietary supplements. We believe Transfer Factor supplements should be widespread among people with rheumatic conditions, including RA. We base our opinion on some very good opinions from our customers who have told us that they have suffered from rheumatoid arthritis for many years and use 4Life's Transfer Factors. These people usually reported their satisfaction with the product after 2-6 weeks of supplementation. One such opinion deserves special mention.
Customer report with over 25 years of severe rheumatism (rheumatoid arthritis) supplemented by 4Life Transfer Factor Classic
Chronic worsening rheumatoid arthritis
Mr. W. has suffered from very advanced rheumatoid arthritis (RA) for over 20 years. He felt arthritic changes in the knee joints most acutely. He was suffering from severe pain, swelling and limited mobility of the joints. He was treated pharmacologically and was even hospitalized for it. 13 years ago, he started looking for dietary support for his treatment as his condition had worsened. He found out about 4Life's Transfer Factors and contacted us asking which of these supplements was the best for him.
As Mr. W. was an elderly person suffering from rheumatoid arthritis (RA) for many years, he started his supplementation with the most delicate of Transfer Factor products, i.e. 4Life Transfer Factor Classic . After a few weeks, Mr. W. contacted us again to make another purchase and express great satisfaction with the supplementation. He later wrote to us:
"After nearly 6 months (very difficult) I found TF [4Life Transfer Factor Classic]. After about 10 days of use, I was able to move - my knees allowed (not without pain) to get up without any support."
For about 3 years, Mr. W. was buying this product systematically. In September 2010 he wrote to us reporting the unexpected exacerbation of his rheumatic ailments:
"I have used TF Classic [4Life Transfer Factor Classic] for about 3 years. Until this year, the results have been amazing - I had no significant exacerbations and the results came back close to normal (Wallery-Rose test below 8 with the 2003 record - over 1700, RF it went down from ++++ to +, ESR from over 50 to about 20) [Wallery-Rose, RF and ESR are parameters used in the diagnosis of rheumatoid arthritis]. This year there was a breakdown - I have a strong exacerbation of pain symptoms. 3 capsules a day What to do? Maybe the body has got used to it and needs a stronger version?

Because of the crisis that Mr. W. reported to us, we suggested to try supplementing the strongest of our Transfer Factors: supplement called Transfer Factor Plus, which has been praised by other rheumatoid arthritis (RA) customers. Mr. W. did not resign from 4Life Transfer Factor Classic but supplemented both products simultaneously. After stabilizing the situation, Mr. W. returned to his current delicate supplementation, only with the help of 4Life Transfer Factor Classic. For the following years, until 2017, he was still buying 4Life Transfer Factor Classic using usually 6 packages per year (which is using only half of the portion recommended on the label). Since 2017, there has been a break in our contact.

Despite the break in supplementation, the previously obtained effects lasted 3 years!

Three years later we received a phone call from Mr. W. which was a great pleasure. He assured us that after a 3-year break in supplementation with Transfer Factors, the positive effects were still present. He ordered some supplements "just in case", due to the prevailing epidemic situation. As he was older, he said, he would like to have his favourite supplements on hand in case of need. The most important thing, however, was that for 3 years - despite the discontinuation of supplementation - he still - as he assured - was enjoying the mild symptoms of his 25-year-old RA!

We recommend 4Life Transfer Factor for everyone looking for good supplements to support his or her diet while struggling with RA (rheumatoid arthritis)

We are very pleased that 4Life Transfer Factor products are such wanted supplements in the diet of people with RA! We have been selling them since 2004 and we still can't get over how fantastically and quickly they satisfy our customers. And also how long this satisfaction lasts! Therefore, in our opinion, 4Life Transfer Factor products are the best dietary supplements on the market and we unscrupulously recommend them to anyone who wants to maintain a healthy diet in time of aching joints.

Attention! Transfer Factor Classic, 4Life Transfer Factor Plus and all other Transfer Factors manufactured by the American company 4Life Research are only dietary supplements! They are not drugs! They are not intended to treat rheumatoid arthritis or alleviate its symptoms. As dietary supplements, they provide ingredients that are generally considered beneficial and thus enrich a healthy human diet. A healthy diet contributes to the improvement of any health condition and supports any healing processes. It is important to remember that during pharmacological treatment, you should consult your doctor about any changes to your current diet, including the inclusion of new dietary supplements.
Recommended

0,57 € / pc.
incl. VAT

0,92 € / pc.
incl. VAT

0,51 € / pc.
incl. VAT